While the business travel industry has been early in welcoming a diverse workforce filled with cultural and global experiences, continuing to embrace, represent, and welcome the broad range of people with different backgrounds, perspectives, capabilities, and experiences will lead to increased innovation, creativity and ultimately, improved business results.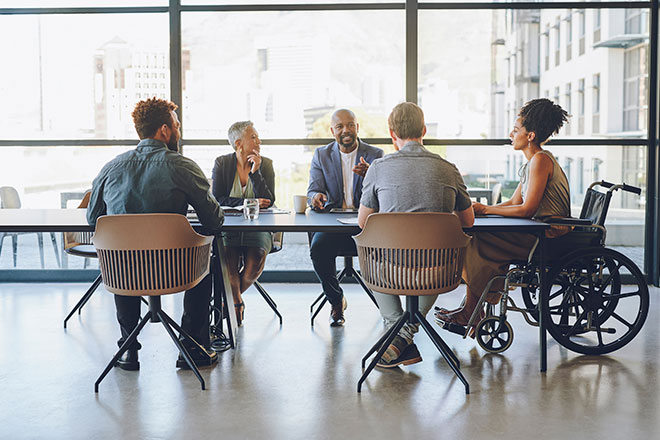 Diversity, Equity and Inclusion
To codify best practices for the industry, The GBTA Foundation, in consultation with GBTA's DEI Committee, has launched a 'DEI Incubator' to help:
Identify the most pressing Diversity, Equity, and Inclusion gaps and challenges in the business travel sector that the GBTA Foundation can help address
Determine the type of Foundation programs or initiatives that can help advance DEI goals most effectively
The DEI Incubator will deliver a DEI Action Plan with a detailed set of goals and a roadmap for how we will live up to our commitment through critical tasks, relevant actions, the timeline, and metrics to measure the success of these initiatives.
DEI Incubator Participants:
Leslie Andrews, Director of Global Travel Category, JLL GBTA Foundation Board Champion
Carol Fergus, Global Travel Meetings and Ground Transportation at Fidelity International, Chair, GBTA DEI Committee
Aileen Furlong Managing Director, Global Corporate Sales, United Airlines WINiT SAB & DEI Liaison
Edgar Sams, National Account Manager – Upscale Brands Choice Hotels International, Ladders DEI Liaison
Tyronne Stoudemire, Senior Vice President of Diversity Equity & Inclusion, Hyatt GBTA Foundation Board Champion
Accessibility In the business travel industry, there are no minimum accessibility standards, particularly as it relates to corporate travel policies and how to proactively understand and address traveler requirements. Almost half of business travelers identify as having accessibility requirements, while a vast majority of travel managers don't know or won't estimate this number. Companies and travel managers are liable for their employees' well-being while traveling. To address this need, The GBTA Foundation's Accessibility Incubator is defining the criteria and best practices for accessible business travel, as well as advocating and establishing partnerships to expand accessible business travel programs.